When professional people work in teams promoting 'new' ideas, they also become proficient at understanding the 'new' arena and emerging market mechanisms.
When the challenge at hand is CO2 and global warming — an issue that has concerned some of us for more than two decades — we observe that;
(i) identifying a low-risk / high-return commercial pathway can be challenging,
(ii) governments and politicians have a tough job getting their act together, and
(iii) attracting investment capital into this arena is the only logical long-term solution.
The adjacent image first appeared on 9th September 2006 in The Economist Magazine — a weekly news publication extensively read by leaders of industry and policymakers — indicating that the warning lights have been on for some time.  This was plausibly the first time that the business community was provided with a clear statement that global warming was real.
At that time a two-degree rise in global temperature, compared with before the industrial revolution, was not being discussed; adapting to climate-change, if at all, was for our grandchildren to consider; and there was a significant degree of scepticism to the IPCC Report that had been published in 2001.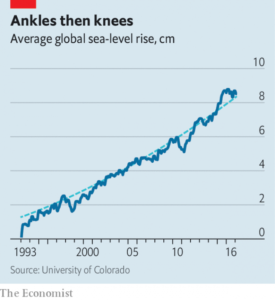 Perhaps not surprisingly, now thirteen years on, the 'two-degree' target is behind us and it is our generation that is already having to pay for rising sea-level and coastal erosion — disproportionately it would seem, between the have's and the have not's.
This is a classic example of experiencing paradigm change where the unthinkable, becomes speakable, becomes reality while everyone is still trying to fathom out how did we get here in the first place!
In this 'new' reality it is our strategy as project developers to present solutions, identify opportunities, bring parties together and implement the best technologies as these become commercially feasible.
To achieve this we stay abreast of the market development by understanding the fundamental issues that invariably impact the bottom line.
However this also requires an understanding of four arenas encompassing politics, media, technology and finance. You can read more about these here (TBD).